Home
SHOW ME THE MONEY!! THE ECONOMIC CRISIS IN EUROPEAN BASKETBALL!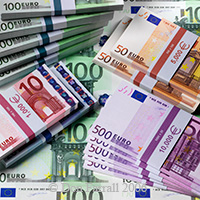 When will players start to see the money?!! (Bild: Alexander Davis)
The European Basketball market is in crisis, as teams can't pay players, and money longtime clubs are folding. When will it all end.. nobody really knows!
The economic crisis of the world has even shifted to the European basketball landscape this season. Many players are making less money this year than they ever have! Teams have fewer sponsors, and even fewer fans. There are also several players still home waiting for that call that call to come play in Europe, knowing it may never come due to the poor basketball market. There are several factors that have this crisis, and they're detailed here: Here's an interesting article on the status of things in Europe this year:

The Baltic league tipped off on the September 26th this year and until September 9th it was still not known how many and which teams would participate in that league. Longtime Lithuanian power Zalgiris Kaunas unofficially went bankrupt last season and Lietuvos Rytas tried to sell their top-players in the middle of the season so they could survive through the play offs.

The economy of Estonia has shrunk with 17 % in 2009 and that of and Latvia with 20%. No longer can clubs from those countries sign import players for USD 200.000 per season. Now, they don't even have enough players for their domestic players.

Iceland went bankrupt as a country. The first Western country to ever go bankrupt. Ukraine is on the verge of bankruptcy and Hungary would already be bankrupt if it wasn't for billions of Euros that the EU pumped into this country to keep it alive.

In Ukraine, Azovmash used to pay $1.300.000 USD for American point guard El Amin. Now, this same team is looking for imports who want to play for USD 3.000 per month. BC Kiev went bankrupt in the middle of the season last year and saw all American players leave the team before a crucial European cup game.

In Russia, 25 % of the teams in the Super league went bankrupt and no longer exist.No longer is the average salary in Russia for import players USD 750.000, but it is down to USD 250.000. Only 9 teams will participate in the Super league this year in Europe's biggest country.

In Poland, former Euro league participant Sopot split into two different clubs. No longer are they looking for import players of USD 1.000.000.000 but they signed Glen Elliott for USD 3.000 per month (he failed the physical exam).

In Spain 18 % of the population is unemployed. A dramatic number. Until last year an unemployment rate of 7 % would have been considered as a major crisis. There are ACB teams who are starting to have financial trouble. Real Madrid is dumping all their expensive long-term contracts and in the LEB 1 and LEB 2 most teams can not afford import players anymore. In the LEB 2, teams are looking for bargains at EUR 2.000 per month (used to be USD 90.000 per year and in the LEB 1 sometimes even USD 250.000).

In the former Yugoslavia almost every team is in trouble. Split can not afford to sign any import players and will play without Americans for the first time in a very long time. Red Star Belgrade still owes salaries from last season and still has no coach (nobody wants to coach them). Partizan's bank account was already blocked last season (Bosna's and Split's too if I am not mistaking).

In Germany, no German player can get a job. For any price. Not even for a hotdog and a beer. Italian teams are offering contracts for amounts that Dutch and Belgian teams could easily afford last season. Turkey seems to be paralyzed. Nothing is happening there.

Greece? …….All Greek teams except for Olympiakos and Panathinaikos have been bankrupt for the last ten years. Imagine how the situation is now.

The Dutch Champion Amsterdam is bankrupt. Last year they paid most of their starters around USD 200.000 and now they are asking players to come and play for them for free!!! Yes, you heard that right. For free!!! The most shocking about this request is that there are dozens of players who are ready to do this. Some of them are VERY good. Players who last season were too good to play in Holland and had a market value above USD 10.000 per month!

The idea behind this is that if a player plays for free for Amsterdam, then he will keep his resume alive, stay in shape, and he will be free to leave as soon as any other club makes him a decent offer. Rumour has it that Amsterdam is not the only team in Europe who is offering this construction, but there are others as well.

Many teams in Europe will play without imports this season. Some of them don't even want to spend money on domestic pro's, but stack their rosters with juniors and cheap second rate players. Needless to say that these team don't really belong on the highest level, but they are allowed there anyway because there is no alternative.

The list of horror examples is very long, and maybe the above information is not so accurate anymore. It may have changed for the better or the worse, but at least it gives an impression of the state of European basketball.

So what is going on? Sure, there is a crisis and there is much less money than last season. We all knew that it would happen and most players are now ready to accept a lesser salary than normal. But that is only a small detail. Here is the REAL problem: Teams have so little money that they no longer can afford to have 12 professional players on the roster, so they now only have 6 or 7. The other spots are filled up with junior players and amateurs who don't get any salary but only their costs reimbursed. THIS MEANS THAT THERE ARE 40-60 % LESS AVAILABLE JOBS THIS YEAR!!!!!!!! In addition, for those jobs that ARE available teams are paying MUCH less that they did last year.

Players and their agents are trying to adapt to this new situation by lowering their salary demands, but that just makes the problems bigger and their chance of getting a job smaller! It is a typical phenomenon in the economy and it is called "consumer strike". It basically means that when the prices are dropping, then the consumers are not going to buy anything. Why should they buy anything today when they know that it will be even cheaper tomorrow or next week? As a result, they don't buy anything and just wait till the prices drop further and further.

The US Dollar is starting to get weaker and weaker because of the fact that the American government has over one Trillion Dollars in debts. A weaker dollar makes American players cheaper and more attractive for European teams. Many European teams are trying to save a one month salary by not signing import players in August/September but rather in October/November.

There are signs that Europe is starting to recover from the crisis. For some teams, that could mean additional sponsors during the season and an additional demand for players. The scary fact about the crisis is that no one can predict when it will be over!

Autor: Alexander Davis (Basketportal Worldwide, Artikel-Nr. 4249)
Angelegt am 04.02.2010 20:41.

Artikel drucken (Druckansicht)
Artikel per Email weiterempfehlen
Anonymer Hinweis zum Artikel

Artikel verlinken

Wenn Sie auf diesen Artikel verlinken möchten, dürfen Sie kostenlos folgenden Code in Ihre Web-Seite einbinden.



Artikel zu Social-Bookmarking-Diensten hinzufügen:

Um Kommentare zu schreiben müssen Sie angemeldet sein.
Seitenanfang