News
No Money...More Problems! 37% of NBA players are going broke!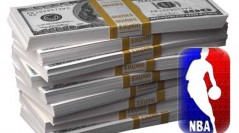 Millions of dollars are being and spent by NBA stars (Bild: Basketportal)
Once a simple but very skillful NBA player starts his rise from fame and becomes a big star, there's no looking back. Many opportunities and offers like commercials, reality TV shows, movies and more are available for NBA stars. There is a drastic change on lifestyles, availability and pride. Millions of dollars are being made and the NBA lifestyle looks luxurious and grand! The money being made outweighs all things and should be enough to last a lifetime... Or should it?

With the 2011-2012 NBA season in jeopardy, many players are spending money more than ever before. Of course, players should stay focus on what they are capable of and don't try to abuse any tempting vices and some things that will eventually destroy the career being protected for most of the season. Injuries also are one of the things cannot be avoided and might end your rise or might bring you back to what you were before financially. But when a players sole job is only the NBA and there is no season, what happens to the players money?

Many NBA players have already run out of money! And former players who get pension money from the NBA are struggling too! This is the case of Scottie Pippen and Julius Erving. Pippen having a poor financial standing in less than 5 years after retiring from basketball gives a hefty lessons to active NBA players that, money earned being a player on the most popular and entertaining sports in the planet should be planned financially on how to spend even still on popular days of the career as a player.

Many current NBA players find themselves stressed about not having any income coming in, and the bills are starting to pile up. They are realizing that the money they made should have been saved, instead of buying 3 or 4 cars, and bigger houses. Thirty seven percent of the NBA players are financially broke right because of the lockout! That means on each team in the NBA there 3 players who have little or no money right now. Some players have taken 2nd jobs in the States, while others have tried to continue their careers overseas. These players need basketball to resume, and resume fast, their livelihood depends on it.

Autor: Christopher McCoy (Basketportal Worldwide, Artikel-Nr. 10980)
Angelegt am 03.11.2011 14:51.

Artikel drucken (Druckansicht)
Artikel per Email weiterempfehlen
Anonymer Hinweis zum Artikel

Artikel verlinken

Wenn Sie auf diesen Artikel verlinken möchten, dürfen Sie kostenlos folgenden Code in Ihre Web-Seite einbinden.



Artikel zu Social-Bookmarking-Diensten hinzufügen:

Um Kommentare zu schreiben müssen Sie angemeldet sein.
Seitenanfang