News
Lockout strikes again! NBA All Star Luol Deng's next stop is Europe!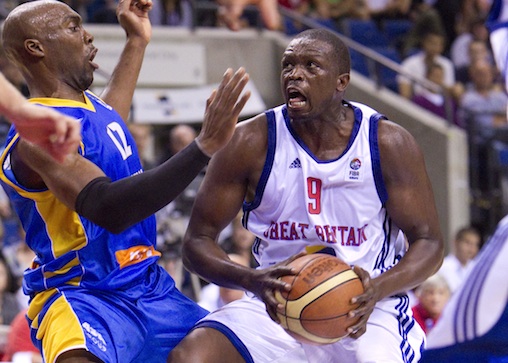 Luol Deng will soon play in Europe (Bild: Sportbeat)
Now that the NBA lock out is well over 100 days! More and more NBA stars are looking towards Europe as their next destination. The latest names being tossed around are Luol Deng and veteran NBA swingman Raja Bell.

With NBA players migrating to Europe, basketball overseas has gotten more intense, improved brand of play and display of more marketability are things that are attracting the likes of Luol Deng from Chicago Bulls and Raja Bell from Utah Jazz. Luol Deng was the leading scorer of the British National Team this summer in Lithuania at the European Championship and averagrd 24.6ppg and the 2nd rebounder with 9.4rpg. "Playing in Europe maybe the best chance for me to showcase my talent since we know we can really play pure basketball, and not have to worry about a lockout", Deng said. Deng also thinks his NBA teammates will learn from him as they make the journey over to Europe to continue their careers. "I know I won't be the last guy to come to Europe, just wait until guy start to feel the pinch financially!" Raja Bell has been playing in the NBA for the past 11 years with 5 teams. His experience on the game is something a he can share to his fellow European teammates since being a decade plus in the NBA makes a lot of sense to everyone else.

Former European standouts, who have excelled in the NBA are back playing well in Europe like Andrei Kirilenko, who plays for his hometown CSKA Moscow team. He has been proving a point and delivered a brilliant substantial performance to earn and named MVP of the Euroleague for October. This 30 year-old from Russia has returned to CSKA after playing a decade for the Utah Jazz in the NBA. He has made sure that he still has what it takes to be an intensified and a talented player.

That's how an NBA player proves their point on playing Euro basketball during than NBA lockout. They are born to be stars; they must act like stars amidst to the current NBA lockout they are facing right now. They should be more efficient to their skills so that after this NBA lockout is over than can re join their old teams and p;lay at the same high level. With at least 40 NBA players playing abroad, will the whole NBA come to Europe if the lockout never ends....?

Autor: Christopher McCoy (Basketportal Worldwide, Artikel-Nr. 10967)
Angelegt am 02.11.2011 09:00.

Artikel drucken (Druckansicht)
Artikel per Email weiterempfehlen
Anonymer Hinweis zum Artikel

Artikel verlinken

Wenn Sie auf diesen Artikel verlinken möchten, dürfen Sie kostenlos folgenden Code in Ihre Web-Seite einbinden.



Artikel zu Social-Bookmarking-Diensten hinzufügen:

Um Kommentare zu schreiben müssen Sie angemeldet sein.
Seitenanfang