News
Goodbye NBA.. Hello China!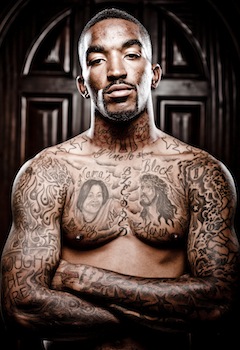 JR Smith Coming to a Chinese arena near you (Bild: A.P. )
NBA Stars worried about the NBA Lockout are headed to play in China!
Most people complain about paying $75 for an extra bag on an International flight. Imagine paying for TWENTY extra bags!! That's what Denver Nuggets Guard J.R. Smith did as he boarded his flight to his new team in CHINA!! As first reported by Yahoo Sports, the longtime Nuggets guard has agreed to a one-year deal to play for Zhejiang of the Chinese Basketball Association. That league, of course, has banned NBA players from signing deals with an opt-out clause that would allow them to return when the lockout is lifted. Smith is therefore stuck in China through at least March, when the league's regular-season ends, according to his agent. The uncertainty over the lockout and the possibility of not even having a 2011-2012 NBA season, was "definitely a factor" in Smith's decision to sign with Zhejiang, and play in the far East. According to several sources close to Smith, the contract he is getting would make the 26-year-old the highest-paid player in CBA history, with a salary totaling around $3 million dollars.

His agent Leon Rose also said that Smith's salary will be "net of taxes," meaning the team will pay some or all of the player's tax obligations in both China and the United States. As usual when playing overseas, Smith's team will provide him with housing, and the contract stipulates that there are "no limits" to what he can do in terms of striking merchandising and other deals. Meaning he'll be able to make money through other deals that he acquires while in China. Stephon Marbury, another former NBA player, has struck several deals in China, and has made more money off the court than he did in the NBA.

J.R. Smith isn't the only NBA player to play in China this season, as Earl Clark, Cartier Martin, and former Slam Dunk champion, Gerald Green. Only time will tell if these NBA stars will last in a place so diverse and opposite of the NBA life.

Autor: Christopher McCoy (Basketportal Worldwide, Artikel-Nr. 10965)
Angelegt am 01.11.2011 23:04.

Artikel drucken (Druckansicht)
Artikel per Email weiterempfehlen
Anonymer Hinweis zum Artikel

Artikel verlinken

Wenn Sie auf diesen Artikel verlinken möchten, dürfen Sie kostenlos folgenden Code in Ihre Web-Seite einbinden.



Artikel zu Social-Bookmarking-Diensten hinzufügen:

Um Kommentare zu schreiben müssen Sie angemeldet sein.
Seitenanfang