News
Fall of the NBA Union??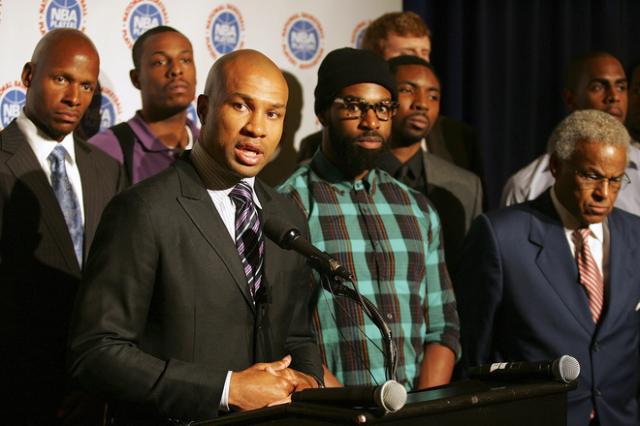 Can Derek Fisher save the NBA Lockout? (Bild: A.P.)
The inmates are clearly running the asylum! Things have gotten really crazy and kind of ridiculous for the NBA players union in the labor dispute. The players were fighting David Stern, public opinion that they were greedy millionaires, and the team owners, now to sort through the Derek Fisher vs. Billy Hunter mess! Wait… Aren't Derek Fisher, and Billy Hunter supposed to be on the same side… Exactly. Here's what has happened the last 2 days during this strange saga that is the NBA lockout.

So supposedly Derek Fisher (Player Union President) has struck a side deal with NBA commissioner David Stern for the players to accept the 50/50 split on BRI. After hearing this, Fisher wrote a letter denying the whole thing, then another report came out that Billy Hunter(NBA Union Rep) was losing the trust of the NBA players within the union, which forced him to write his own letter, saying that everything was great, and that everyone must stick together. And finally today Fisher upped the ante by hiring a lawyer, claiming he's not partnering with the League on any side deals. I couldn't make this stuff up… This seems like a modern day soap opera.

Trying to save face, David Stern says that there was no meeting with Derek Fisher, and that no side-deals have been cut. At the end of the day, it doesn't matter who's telling the truth between Billy Hunter, Derek Fisher and the millions of media outlets. All that matters is that labor negotiations between owners and the union must renew, players have to somehow get out of this with a halfway-decent deal, and most importantly, NBA games need to start being played again, and soon.

(Basketportal Worldwide, Artikel-Nr. 10975)
Angelegt am 02.11.2011 16:20.

Artikel drucken (Druckansicht)
Artikel per Email weiterempfehlen
Anonymer Hinweis zum Artikel

Artikel verlinken

Wenn Sie auf diesen Artikel verlinken möchten, dürfen Sie kostenlos folgenden Code in Ihre Web-Seite einbinden.



Artikel zu Social-Bookmarking-Diensten hinzufügen:

Um Kommentare zu schreiben müssen Sie angemeldet sein.
Seitenanfang