Home
Basketportal read: worldwide now with millions of iPhones!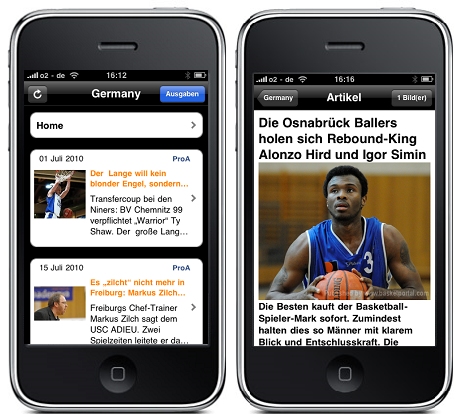 Basketportal lesen: Ab sofort über Millionen iPhones weltweit (Bild: Basketportal)
Basketportal is an active multi-media magazine which spreads its news worldwide in a heartbeat. Our news are recognized within the basketball world. A lot of basketball fans are more intelligent than some clubs think. They want truthful and neutral information instead of sugarcoated news. That´s why the number of our readers has doubled during the last six months. Because a lot of our articles named crucial points and offered information that noone else had. From now on we´re even more mobile. Apple revolutionized the mobile-world with their app store. We have developed an i-phone application and are now reachable from thousands of i-phones. Soon we will surprise you with more news. The application can be installed on any i-phone through the app store. Just search for our name: Basketportal
(Basketportal Worldwide, Artikel-Nr. 6931)
Angelegt am 31.07.2010 10:20.

Artikel drucken (Druckansicht)
Artikel per Email weiterempfehlen
Anonymer Hinweis zum Artikel

Artikel verlinken

Wenn Sie auf diesen Artikel verlinken möchten, dürfen Sie kostenlos folgenden Code in Ihre Web-Seite einbinden.



Artikel zu Social-Bookmarking-Diensten hinzufügen:

Um Kommentare zu schreiben müssen Sie angemeldet sein.
Seitenanfang